Last updated
7 months ago
The cannabis industry well represented at the National Farm Machinery Show
Innovation was alive and well in Louisville Kentucky last week at the National Farm Machinery show! The hemp industry was well represented as interest raises across the nation about growing this promising crop. Not only hemp, but marijuana growing equipment was also featured, and many familiar agricultural products are being using in new and interesting ways.
The National Farm Machinery Show is an annual event in it's 55th year of operation. It offers the most complete selection of cutting-edge agricultural products, equipment and services available in the farming industry. Business professionals from around the world gain knowledge and hands-on access to various technological advancements needed for the upcoming farming season during the four-day show. The Kentucky Exposition Center is completely filled with 890 exhibitors, making it the country's largest indoor farm show, with over 300,000 attendees and exhibitors annually.
One exciting piece of equipment featured at the show is the Agco Gleaner combine. Hemp presents a unique opportunity for farmers looking to hedge beyond traditional crops. It grows in tough conditions and is desired by a variety of markets, but there are unique challenges with harvesting the crop. The tough fiber tends to bind up traditional combines, and the delicate bud must remain unharmed during harvesting. The Agco Gleaner has proven to to separate the seed and the stalk without binding up. Todd Davis of Agco says they have, "many successful hemp farmers are using the Gleaner, across the US, mainly Colorado & California." For more info about the Agco Gleaner click here.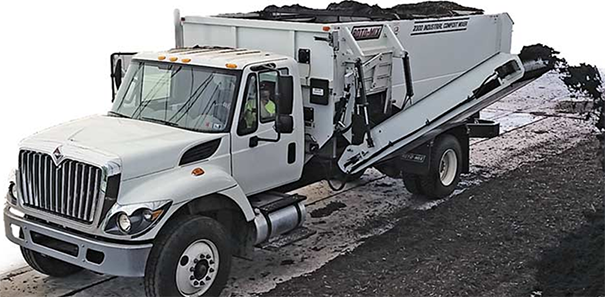 Roto-Mix, based out of Dodge City, Kansas, was also exhibiting. They are a leading manufacturer of livestock mixing and feeding equipment, compost mixing equipment and manure spreaders. Their presence in the cannabis industry is in the indoor grow space. Roto-Mix feed mixers are like giant blenders, and have long been used for mixing potting soil in large horticultural operations. Roto-Mix president Kelly Wittman told us, "The cannabis industry knows the importance of having a consistent soil mix. Our mixers are proven to break up and blend coir with organic matter uniformly throughout the entire load, providing a consistent dependable product in which to grow their valuable crops." Roto-Mix mixers are available as stationary units, as trailers or on trucks. See the power of the Roto-Mix in action here, or visit there website here.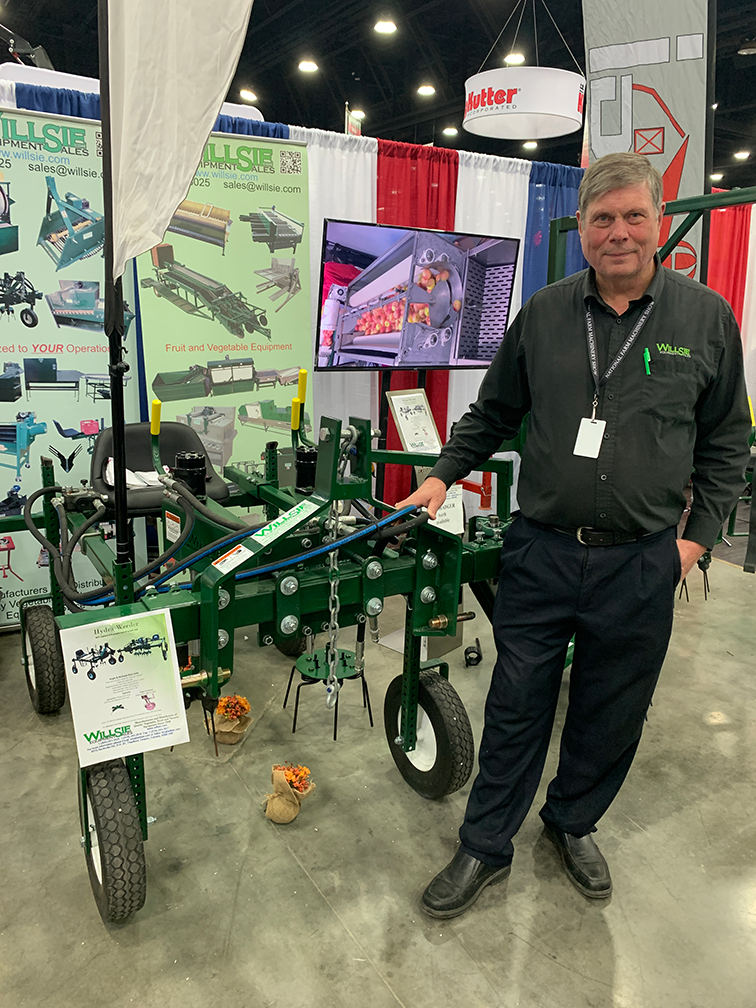 Another product built for the hemp industry, that was featured at the National Farm Machinery Show was a hemp Hydraweeder manufactured by Willsie Equipment. Willsie Equipment is a manufacturer and distributors of Quality Fruit, Vegetable and Nursery Equipment. The Hydraweeder comes in one and two row options. This weeder controls weeds allowing for an organic grow. Learn more about Willsie Equipment here.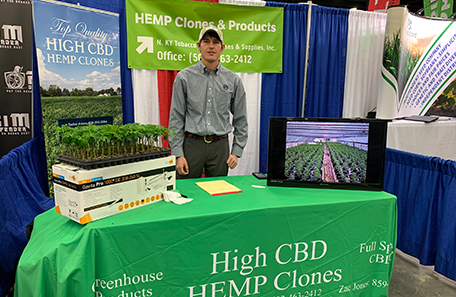 NKY Hemp Plants brought along a flat of hemp clones that they displayed in their booth. They have found success in starting hemp clones for farmers to plant, providing an alternative to seed. They sell compliant High CBD and CBG clones, helping farmers improve the quality of their harvest with one phenotype, and eliminating the chance of growing male plants. For more information on NKY Hemp Plants and the varieties they offer click here.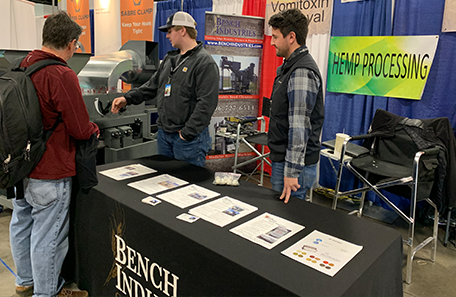 For those looking to clean hemp seed, or strip hemp, Bench Industries offers a variety of machines customized to the needs of the hemp farmer. Manufactured in Great Falls, Montana, Bench Industries offers a wide variety of grain and seed cleaning machines, color sorters, vibratory separators, mobile and mini seed cleaning and grain cleaning solutions. See their hemp seed cleaner in action here.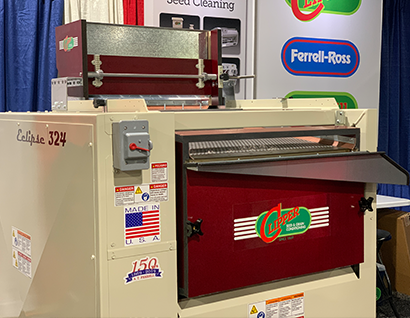 Clipper, by A.T. Farrell turned 150 years old last December. Their enduring synergy within the agriculture industry made it an easy step into the hemp business with their seed cleaners. Manufactured in Bluffton, Indiana, the Clipper seed and grain cleaners are the most widely used air screen cleaners in the world. Take a look at their offering here.
The National Farm Machinery Show has proved yet again to be on top of their game in presenting the innovation and spirit of modern agriculture. Interest in hemp farming and cannabis is on the rise across the nation, and the Louisville event delivered in representing this industry.